Yellowknife Community Foundation
Friends of Fred Carmichael Scholarship
Description
The Friends of Fred Carmichael Scholarship Fund was created in 2008 when 27 companies from across Canada chose to establish this scholarship fund to honour Mr. Carmichael and his life-long passion – providing northerners with northern training for northern jobs.
The number of scholarships awarded, and the amount of the scholarships may vary from year to year. At the end of the 2017/2018 academic year six (6) scholarships of $1,000.00 each and four (4) $100.00 awards were granted.
Prerequisites 
This scholarship is only open to students enrolled in the Adult Learning and Basic Education (ALBE) program at Aurora Campus in Inuvik and at all Aurora Campus Community Learning Centres in the Beaufort Delta or Sahtu Regions of the Northwest Territories (NWT).
Criteria
strong academic effort (commitment and dedication to course work)
more than the usual number of obstacles and challenges to overcome (perseverance in the face of adversity)
Like any good pilot, Mr. Carmichael knows the importance of 'staying on course' in order to successfully reach your destination. Through this scholarship, Mr. Carmichael hopes to encourage students to persevere through difficulties, as he had to do, in order to follow and achieve their dreams.
Applications
Complete the Student Application Form which requires carefully thought out answers to the following three (3) questions:

What are your education and career goals?
What were some of the challenges you faced while returning to school and how did you handle those challenges?
In the future, how do you see yourself working to make your community and the North a better place?

Have an instructor complete the Instructor's Reference Form.
The Student Application Form and the Instructor's Reference Form are available from stilley@auroracollege.nt.ca;
Once completed, please send your application form to stilley@auroracollege.nt.ca;
by facsimile: 1-867-777-2850; or in hard copy,
by mail: c/o Student Counsellor
Aurora College, Aurora Campus
PO Box 1008, 87 Gwich'in Road
INUVIK NT X0E 0T0
Important Note
successful applicants are required to provide Social Insurance Number for CRA purposes
successful applicants are required to keep the Yellowknife Community Foundation aware of any changes of address – for T4-As to be mailed next January/February
successful applicants are requested to sign a photo release form for the Yellowknife Community Foundation, which is the administrator/manager of the fund.
Contributors to the Fred Carmichael Scholarship include the following businesses and organizations:
Aboriginal Pipeline Group
Bennet Jones
BP Canada
Chevron
Conoco Philips
Devon Canada
Dowlands Contracting Ltd.
Field Law
First Nations Bank of Canada
Flint Energy
Great Slave Helicopters
Gwich'in Ensign Oilfield Services
Gwich'in Geomatics
Imperial Oil
Inuvik Commercial Properties Joint Venture
Kiewit & Sons
KPMG
Ledcor
Mackenzie Aboriginal Corp
MGM Energy
New North Projects
North American Construction Group
Pacific Western Bank
Petro Canada
RBC Capital Markets
Shell
Trans Canada Corporation
Past recipients
2019 Brett Elemie, Dakota Whitbread, Faith Raymond, Helen Squirrel, Kathryn Kataoyak & Laura Moses
2018 Amna Mohammed, Calvin MacCauley, Dale Ruben, John Robert, Konrad Grandjambe & Mahafuza (Dina) Khanom
2017 Chanel Bavard, Patricia Turo, Earlene Lucas, Tina Esau, Beverly Kimiksana, Ronnie Rogers, Ashley Yukon, Samuel Kodekin-Yakeleya, Rylan Green & Hannah Kataoyak.
2016 Scott Atigikyoak, Raven Firth, Loretta Kelly, Joanna McKay, Riley McLeod, Sarah McNabb, Sharon Menacho & Carly Sayers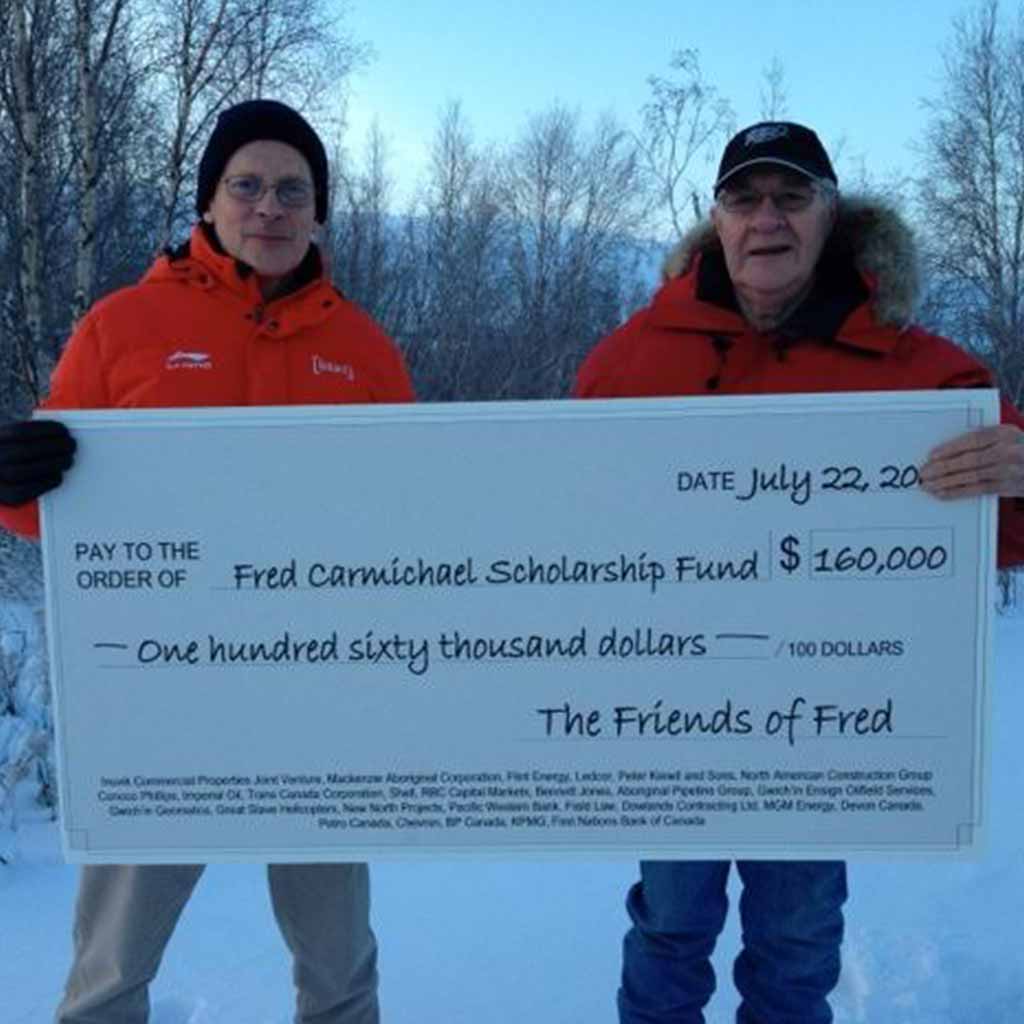 Providing northerners with northern training for northern jobs.